Meet Our Team
An outstanding group of individuals dedicated to the same goal; a perfect customer experience.
At Eastern Time, we are tenacious about holding each other accountable. The excellence we demand internally sets the standard for how we perform in the field. Our team has had extensive history working together in home technology and luxury design, coming together at Eastern Time is a natural fit.
Bryan Rizzo
Construction Department Manager
Bryan began his career with ETI in 2007. He presently oversees and collaborates with the construction, service and IT department managers to assure that customers, contractors and other industry stakeholders get the same ethical and honest treatment his father Charles Rizzo founded the company on in 1982. He specializes in fire alarm, access control and CCTV system design with a focus on the casino, corporate, industrial, healthcare and educational vertical markets. Bryan is dedicated to forming long-term relationships with both contractors and customers thorough communication and attention to detail throughout the sales, job delivery and post sales process. Bryan is also the team leader of the construction department, constantly working to improve planning, quality control and final delivery of all new projects. He graduated with a major in Economics from the University of Maryland, College Park where he wrestled for the Terrapins. In his spare time, he enjoys traveling abroad with his wife and four kids, coaching wrestling, music and photography.
Marc Rizzo
Sales Manager
With an MBA in Project Management from DeSales University and undergraduate degree in Business Management at Drexel University, Marc brings a combination of practical project management and entrepreneurial acumen to the team. He specializes in fire alarm and nurse call system design with a focus on healthcare, corporate and industrial vertical markets. Marc delivers value to his customers with his commitment to long lasting relationships and finding ways to work through any obstacle in front of him. He began his career with ETI in 2007 and has contributed in many ways including his currently responsibilities as an Executive Vice President overseeing sales, finance and material management. In his time away from the office, he enjoys spending time with his wife, two young children and dog. CrossFit, yoga, golf and the occasional concert fill up all of the remaining time.
Lee Franks
Service Manager
Lee started with ETI in the spring of 2008. He has developed an efficient customer centric culture in our preventative maintenance areas of ETI. He is a certified OSHA trainer of Construction and is NICET level III in Fire Alarm. He has knowledge in all areas of the alarm services industry with over 25 years in the industry. Lee also has a Bachelor's Degree in Business Administration which he obtained in the evenings while working in the industry. He enjoys spending time traveling throughout the U.S. with his wife and two children in his spare time.
Bob Frankenfield
Director of Strategic Assets
Bob Frankenfield joined Eastern Time Inc in August 2004 as a Sales Engineer in our Allentown Corporate Office, and has since been the Sales Manager (2005-2015), Operations Manager since 2015 and is currently focusing on Asset Management and purchasing for the last three years. Bob has worked with Integrated Fire, Security, Card Access, Camera Systems and other Low Voltage Life Safety Systems full time since January 1983. Bob has college degrees with Valley Forge Military Jr. College and Mansfield State College/University and construction management classes at Spring Garden College. Bob spent fourteen years managing the operations side of business for companies in the Philadelphia area. Bob also worked for Kling Engineering as a Security and Fire Specialist for one and a half years. Bob had over six years of system sales experience with systems integrators in the Philadelphia area before joining Eastern Time Inc. Bob enjoys skiing, sailing, kayaking, camping and weekend rides on his motor cycle or in his convertible.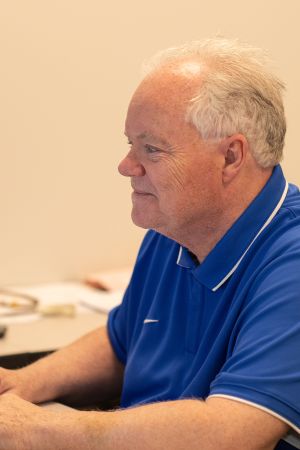 Pat McGoldrick
Controller / CPA
Patrick started his career in 1980 working for one of the largest accounting firms in the world, KPMG &Co. He became a certified public accountant in 1983. His long career has seen him work for various multi-national corporations as an auditor, accounting manager, controller, financial reporting and accounting policy director. He has also worked in public accounting as a tax consultant and even worked in that capacity for ETI, Inc. before joining the company as its current controller. He currently lives in Saylorsburg, Pa. with his wife Cathy and dog Charlie. His son Patrick lives in Bethlehem, Pa. with his wife Megan and their cat Polo.
Patrick B. McGoldrick
Controller
Patrick started his career working for one of the "Big 4" public accounting firms, Deloitte & Touche as a staff Auditor. He has worked in Public Accounting for most of his 18-year career performing financial audits and preparing corporate tax returns. Prior to joining ETI as an employee Patrick worked as a financial consultant assisting with accounting software integration. Patrick brings a high level of sophistication and integration acumen to the team with the goal continued process improvement for the customer. He currently lives in Bethlehem with his wife Megan and his 6-month-old daughter Taryn. His parents Pat and Cathy live in Saylorsburg, Pa.
Mike Williams
IT / WiNet Manager
I began my career as a technician in 2014, specializing in security and IT services. Protection of the community through life safety technology became a passion of mine. Through my devotion, tactics, and hard work, I advanced through the ranks at Eastern Time and am now the IT manager. I received a Bachelor of Computer Science with a Math Minor from Kutztown University and an Associate of Electronics Engineering from Lincoln Technical Institute.
Paul Zeller
Salesman
Paul is ETI's Systems Sales Engineer Audio/Video Specialist who joined Eastern Time, Inc. in 1998 and has over 30 years of accumulated knowledge in the professional and commercial audio and video systems, intercommunications systems, and nurse call systems. Paul is a highly respected 'technical salesman' who came up through the ranks of field design, installation, technical support, and project management. His 'hands on' knowledge has made him an asset to our customers and us. Paul is part of our Corporate 'Systems Integration Sales Team'.
Justin Eddy
Salesman
Justin began his career at ETI in 2017. He has 20 years of industry experience holding multiple positions from technician, to commercial project engineer, to his current position of sales engineer for the Wilkes-Barre office. His success in sales stems from the long term relationships he has built and his strong technical knowledge of the products he sells. He specializes in Fire Alarm, CCTV, Access Control, and Security. He has an associate's degree in Electrical Engineering Technology from Penn State. Outside of work Justin spends most of his time with his wife and children. He enjoys Penn State and Denver Broncos football and is an automotive enthusiast.
Dan Marzec
Salesman
Dan joined Eastern Time in 2012 and has over 30 years' experience in the Life Safety and Electronic Security industry. Consulting with clients as a service technician laid the groundwork for a transition into sales. Dan excels at solving clients' problems, developing a solution and following the project through deployment.  In his free time Dan enjoys sailing, camping, motorcycle touring or just hanging out at home with his wife Denise and their family.
Chad Sportelli
Salesman
Chad is in charge of direct end user relationships with a focus on handling the service needs of our customers. He began his career with ETI in 2012, and concentrates on support contracts with end users to make sure all life safety systems are inspected, maintained and serviced according to required local, state, and national codes. Chad also focuses his attention on the central station monitoring needs of all of our customers. He completed his undergraduate studies at Kent State University in Kent, Ohio, earning a degree in Sports Management. Chad is a two-time Mid-American All Conference wrestler for Kent State University and was named to the NCAA Division 1 Wrestling All-Academic Team on two occasions. Chad has a school aged son and is excited to see excel in academics and athletics over the years. He was a former PGA golf teaching professional in Ohio and California enjoys spending time on the golf course outside of work.
Tom Conklin
Project Engineer
Tom finished high school and started college but, was interrupted after one year by winning the draft lottery. After four years in the navy, Tom started working in the fire alarm industry and attended Lafayette College in the evenings on the GI Bill. Tom came on board with Eastern Time and has been here in one capacity or another since the early 1980s. For the past ten years, Tom has been in the position of Project Engineer and has made Code compliance and education a priority. He is an active member of NFPA and AFAA and is certified as NICET Level 4 in Fire Alarm Systems. Tom has three children and four grandchildren.
Dan Rosado
Project Manager
Danny began his career with Eastern Time Inc in December of 2018 as a technician. He specializes in fire alarm and security system deployments while working with customers to schedule and prepare our technicians for the jobsite. He is dedicated to working with others and prides himself on getting to know customers with professionalism and integrity. As a project manager, Danny collaborates with the construction team, striving to make any and all jobs run successfully within time and budget. In his spare time he enjoys coaching his son's travel baseball team, traveling all over the country with his wife and daughter by his side.
Dave Matz
Project Manager
Dave is located in the Allentown office and has worked for ETI since 1997. He received training in the US Army for electronics and telephone communication systems, and has since then been certified on most of the fire and security systems that ETI supports. Dave designs, engineers and lays out the projects being installed. He also works closely with our CAD department and documentation department to provide submittal information for permits and engineer approvals. He coordinates with the project foreman and the ETI technicians for installations. Additionally, Dave is NICET Level IV certified in Fire Alarm Systems. Dave served in the 82nd Airborne Division of the Army during the US invasion of Panama, and he earned a Bronze Star in Operation Desert Storm. Dave is also a volunteer fire department officer at Penn Forrest Fire Station in Jim Thorpe, PA.
Kevin Hummer
Project Manager
Kevin joined ETI in August of 2018 with nearly 20 years of industry experience having previously been a service technician maintaining and repairing fire alarm, CCTV, security and card access control systems. He is a project manager working out of our Wilkes-Barre office. He works with project foreman and ETI technicians to ensure projects are completed on time. Kevin is NICET certified and factory trained on most systems that ETI offers. In his spare time Kevin enjoys watching football and camping with his wife and son.
Toni Zuberka
Assistant Construction Department Manager
Toni joined the ETI family in early 2019 with 30+ years in the construction industry. Prior to joining us she built up her own business and was successful in growing it for 15 years before making the decision to forgo the business to attend to her newly adopted her daughter in 2018. She earned an associate's degree in Business Management and continued to work towards a bachelors at Cedar Crest College. She has also earned many certifications to include but not limited to High/low voltage training, OSHA certified Trainer, Lead certification, Quality control certifications and much more. Toni brings her tenacious attitude to the team to keep things moving forward for our customers in all areas. She enjoys long weekends at her cabin hunting, fishing and hiking. In addition, she has five children and four grandchildren that she and her husband enjoy yearly vacations with across the USA and beyond.
Kristen Rice
Administrative Assistant
Kristen joined the Eastern Time family in February 2023 with ten years of experience in the customer service industry. She is a vital part of the construction department in the Allentown office working with our engineering and project management staff. Kristen has a bubbly personality and brings with her a willingness to learn and grow within our team. She is passionate about volunteering in her community for children and families with disabilities. In her spare time, she enjoys spending time with her goldendoodle and hiking.
Beth Eddy
Administrative Assistant
Beth became a team member in March of 2023. Her 12 years of experience in our industry and knowledge in customer service is a tremendous asset to the company. Beth's personality and skillset make her a great addition to the construction department by supporting our Wilkes-Barre and Chambersburg offices. She has a great sense of humor, which helps brings balance to the construction department and is appreciated in our demanding industry. In her spare time Beth loves to spend time with her family and her precious fur babies.
Jillian Schatzle
Inspection Coordinator
Jillian joined the ETI family in June of 2018 after working at a large resort community in the Pocono Mountains where she served as the front desk supervisor. This prior work experience combined with similar employment while living in New York state, Jillian brings depth to the team in the customer service industry. Jillian loves filling her spare time surrounded by her husband Eddie, son Edward and Pitbull Penny who are her world. She also enjoys reading, relaxing in her yard, and getting to as many concerts as possible.
Patty Wuchter
Service Coordinator
Patty joined the Eastern Time work family in December 2015. She comes with over 35 years of Customer Service, 25 being in the Fire and Life Safety industry. In her spare time, she enjoys spending time with her significant other John, their 7 children, 4 grandson's and fur baby Diesel. She also enjoys vacationing in the Caribbean islands.